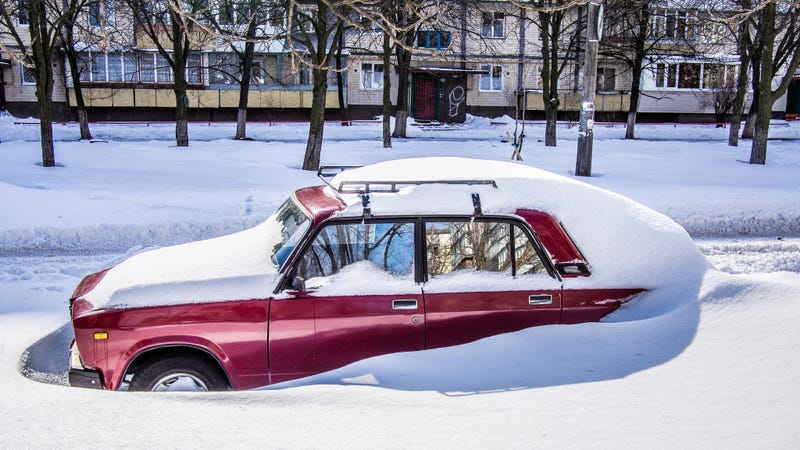 The morning after a big snowfall here in Brooklyn, us city-dwellers always awake to the same awful, desperate noise: The sound of a million New Yorkers trying to pull their cars out of parking spaces that haven't been adequately shoveled out. This means an ongoing high-pitched whirring of tires and revving of engines, sometimes for hours, while I lie with the pillow over my head and pray that they run out of gas or otherwise somehow explode. It is for these people, these determined tire-spinners, that I called the New Hampshire Motor Speedway in Loudon, New Hampshire to talk to Real New Englander And Car Guy™ Eric Rollins, the director of maintenance for the Speedway, for advice on how to rock one's car out of a snowbank. He took time out of his day of prepping the Speedway for the big storm and offered some good advice for the tire-spinners and the inexperienced winter drivers among us.
Be Prepared in the First Place
"You should have good tires," said Rollins. Examine them before the snow hits (this might be too late for you for this storm) and check that the tread isn't worn. "Check the air pressure in the tires—they should be inflated to the proper level. Make sure your anti-freeze is good, your fan belts are good, and pack a blanket and jumper cables," preferably one with a battery pack so you don't need another car for a jump. Rollins recommends asking the mechanic to check everything out when you have your oil changed, and to remember to fill up on gas. "If you get stuck and your car runs at least you can stay warm."
Get Ready to Dig
If your tires are spinning, "the first thing you should do is have a shovel," said Rollins. "And probably a little kitty litter." There's no way around it: If you're stuck in the snow, "the only way to get out is to move the snow." Rollins recommends carrying a shovel, the kitty litter, and tire chains (here's a handy video guide to installing tire cables—which ideally you should have on your tires before you're stuck). If you can't get any traction, shovel away more snow and scatter kitty litter, sand or dirt in front and in back of the tires. You can also use a board or one of the floor mats as a wedge behind the tires.
Read More...